Dawson Company Gives Back
At Dawson Company, giving back to the community isn't a public relations statement, but a rallying cry for our team.
We're committed to giving back to the communities we serve.
The organizations we support may vary from time to time. We are always looking for those in need, to find places where our physical and financial contributions can make a difference.
When you become a member of the Dawson Company business community, your direct purchases from Dawson Company will support these organizations. 
Whether it's cleaning up the beaches, providing clean water to drink, food for hungry children, or a warm place to sleep, every project has a direct impact on the communities we serve. 
We thank you for the opportunity to make a difference in your business and the world.
Below is just the beginning. Come back often to learn more about how we are giving back.
Beach CleanUp
In partnership with Xylem Watermark, Dawson Company holds their Second Annual Beach CleanUp.
Save Our Beach, a non-profit located in Seal Beach, conducts monthly beach cleanups in the First Street parking lot on the third Saturday of every month.
At the September 17, 2022 event, Dawson Co. brought a large contingent of employees and family members to volunteer and help clean up the beach. A $2,000 donation was made to Save Our Beach.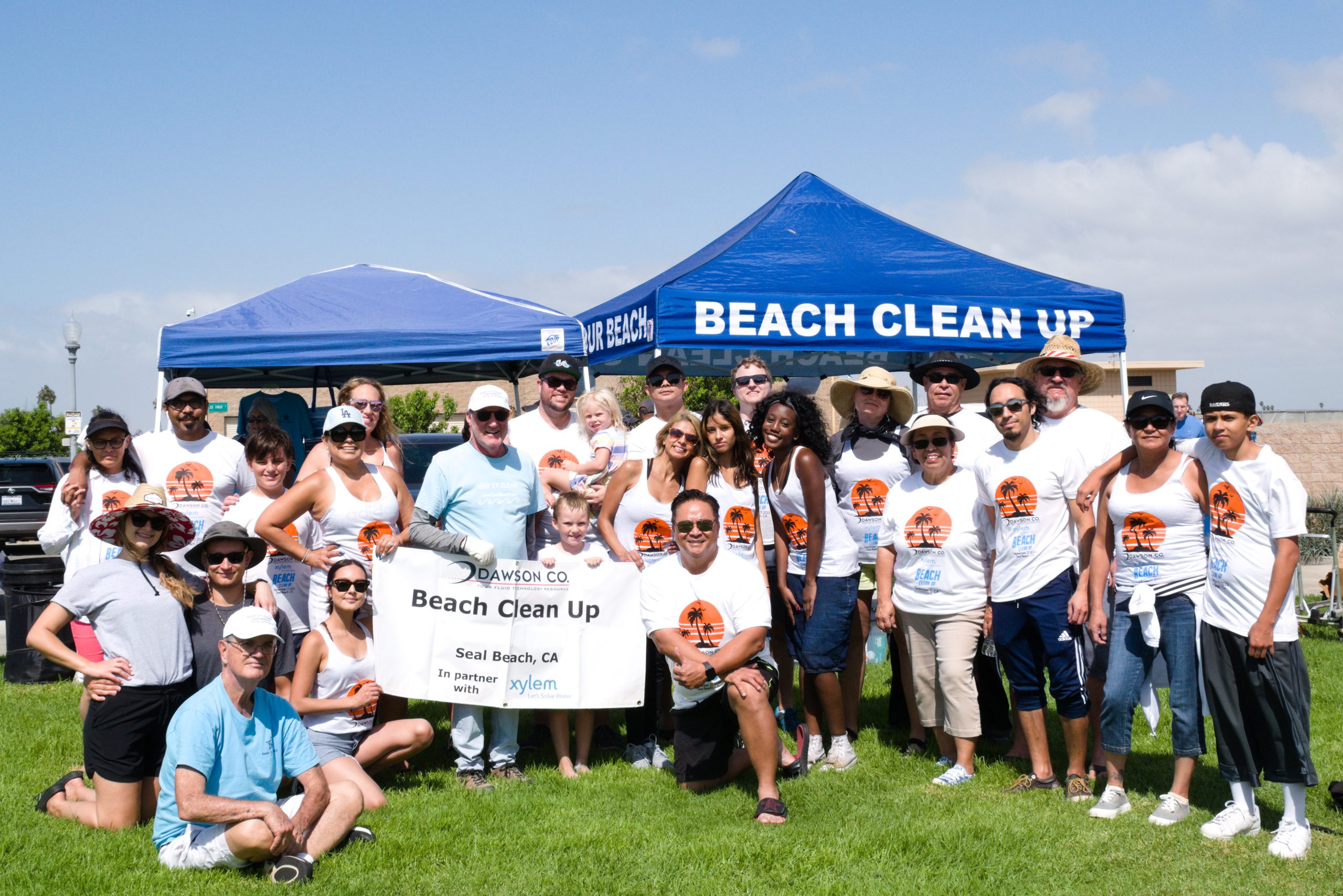 Dawson Co & Xylem volunteers pictured with Steve Masoner from beachcleanup.org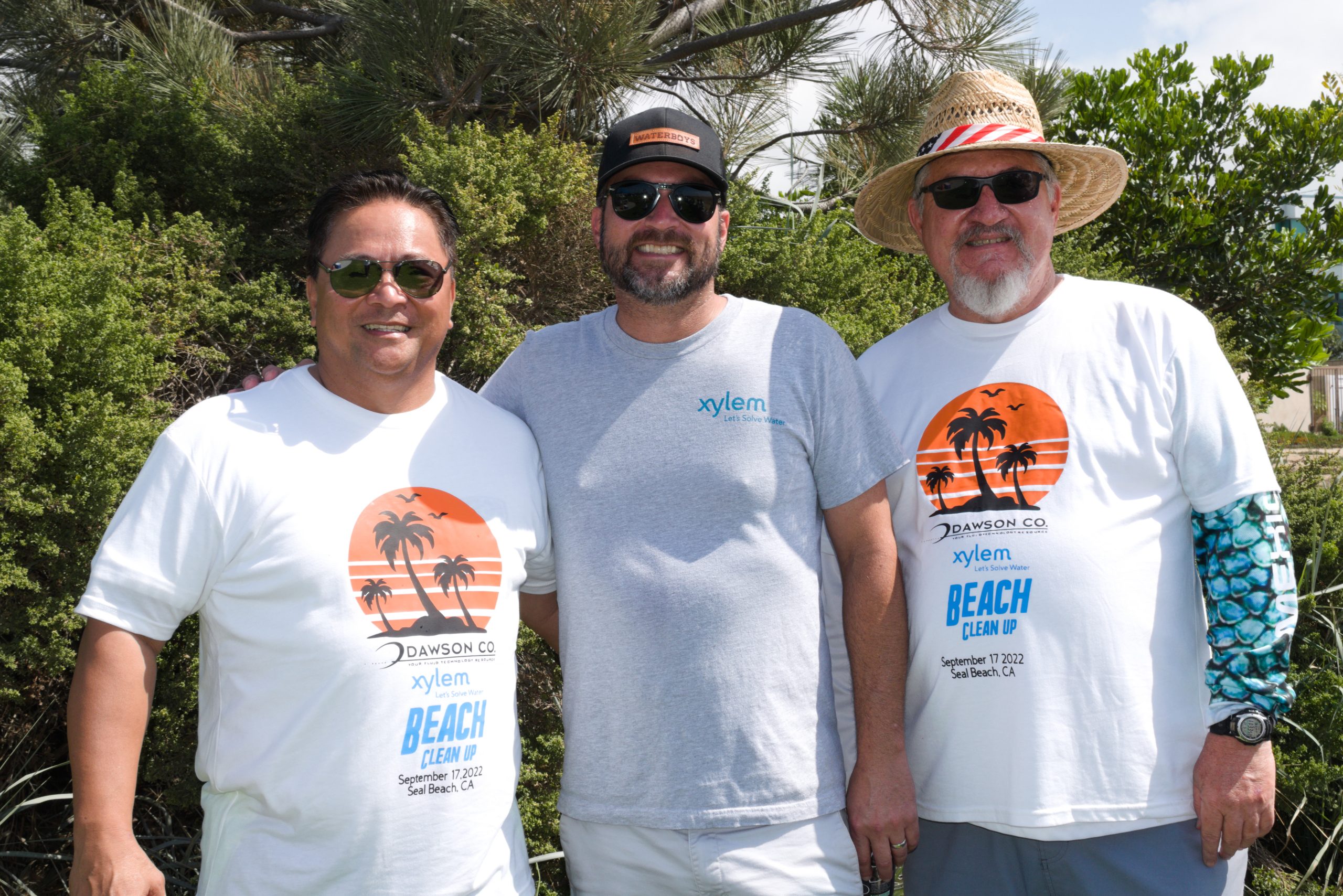 Dawson Co & Xylem volunteers pictured with Steve Masoner from beachcleanup.org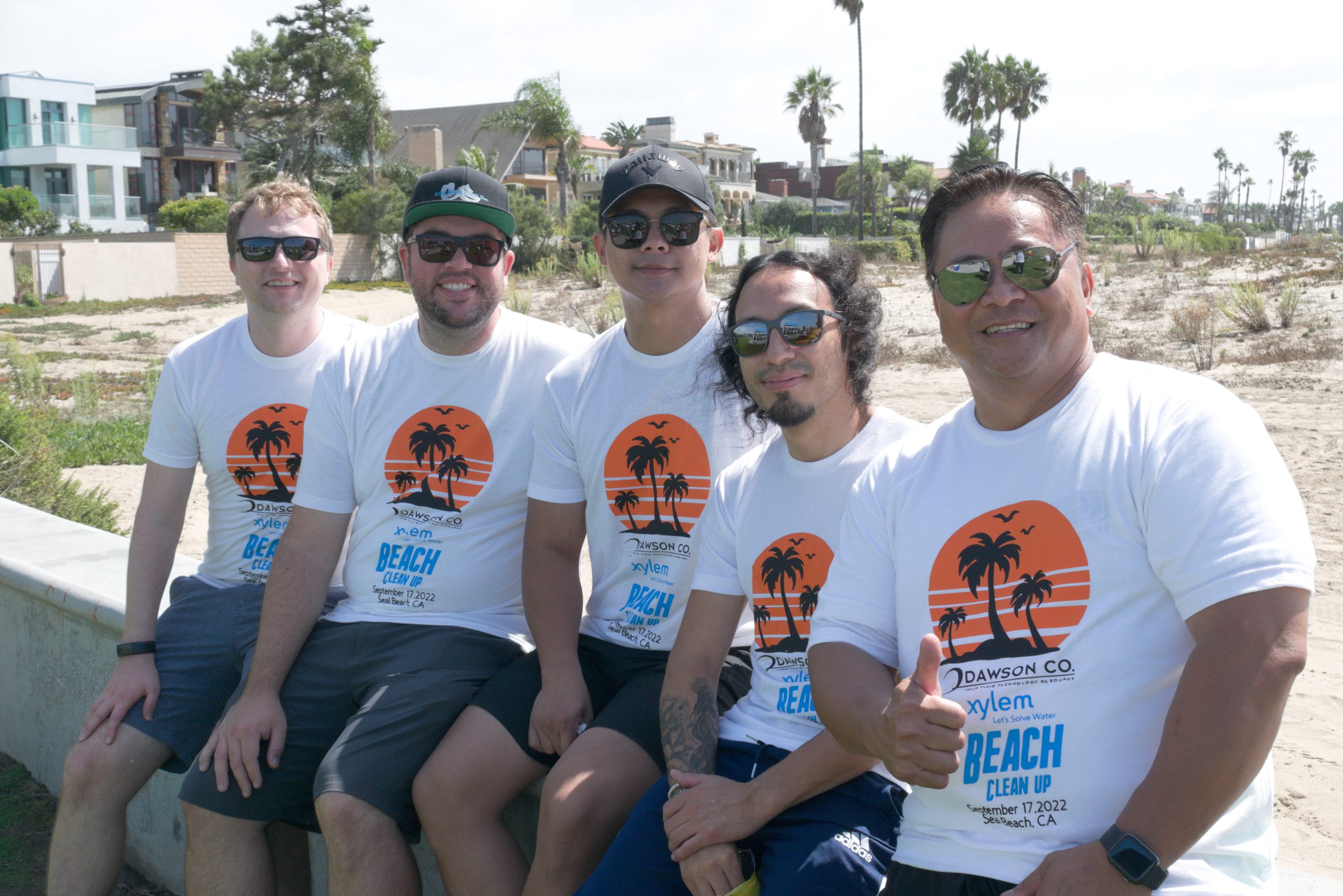 Pictured from left to right Dawson Co. Business Development Group Eric Decker, Kendal Smith, and R.J Santiago Joel Parada from the Estimating Department President,C.E.O Ric Serafin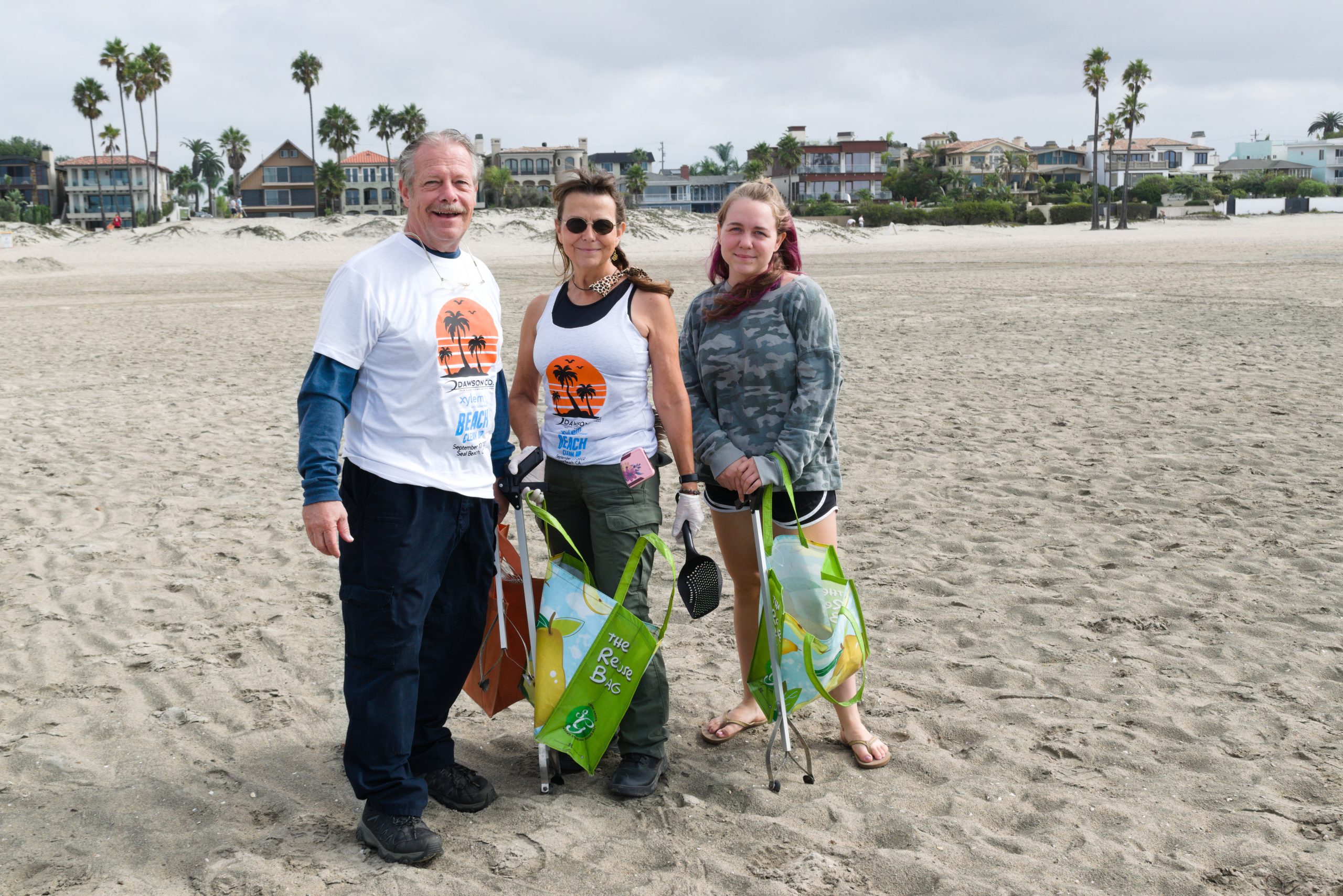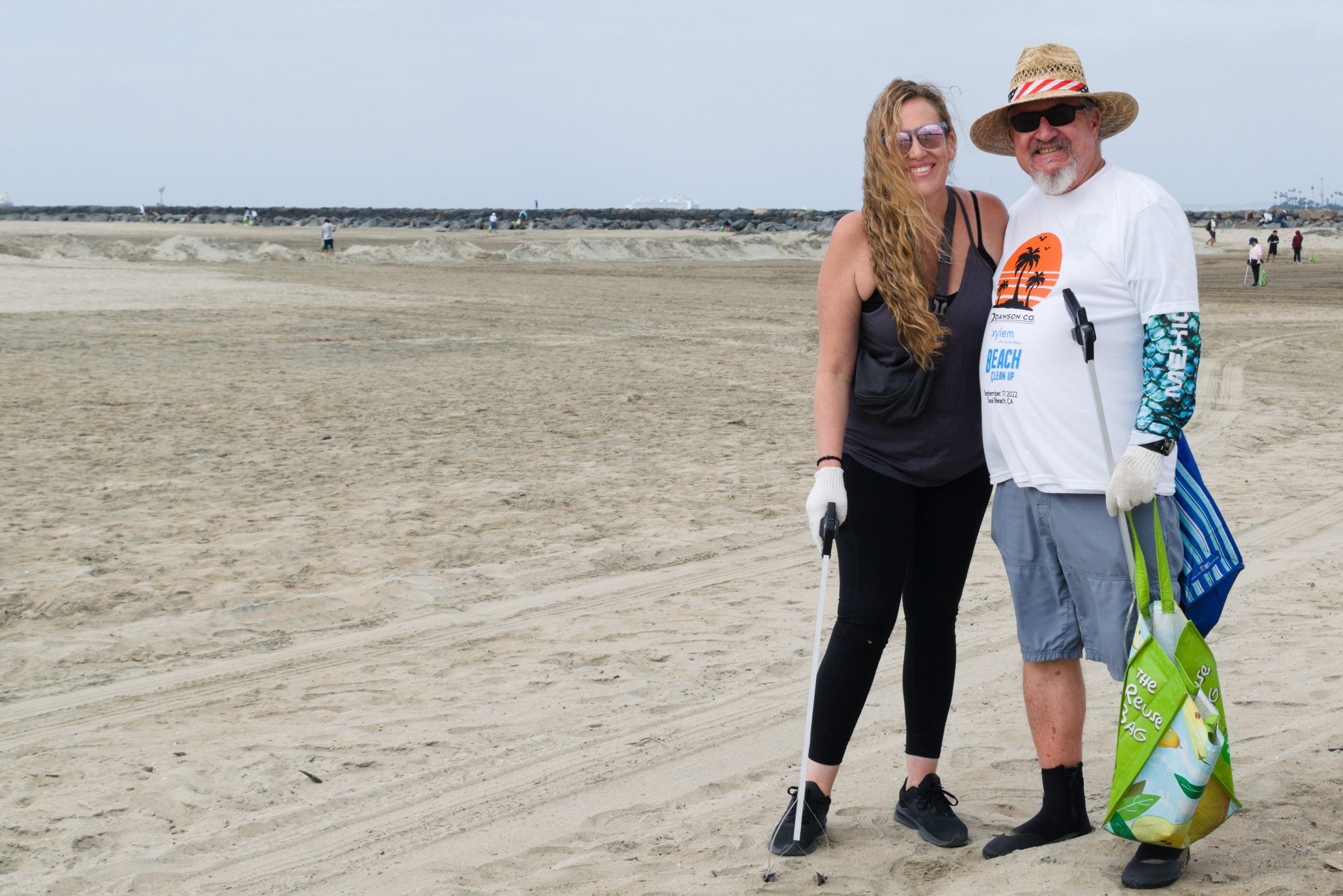 Dawson Company & Xylem (Bell & Gossett)
Team up to Fight COVID-19 and Support our Front-Line Workers
Xylem, the parent company of Bell & Gossett, is a leading technology company committed to "solving water" by creating innovative and smart technology solutions to meet the world's water, wastewater, and energy needs. Xylem is not only committed to innovation in the water industry, but is also dedicated to giving back to the community here in the USA and globally through Watermark, its corporate responsibility program.
Watermark works with nonprofit partners on sustainable development projects that provide education and protect safe water resources for communities around the world. Employees and stakeholders are encouraged to take action to address global water challenges by volunteering their time, providing pro-bono skilled expertise, donating in-kind technology and product, and making corporate–matched monetary donations.
Recently Xylem dedicated itself to help fight the COVID-19 pandemic by diverting manufacturing capability to produce protective face shields for front-line workers. In order to meet the need at the local level, Xylem reached out to its representative network to distribute the face shields.
Dawson Company took this opportunity to support our local front-line workers and contacted multiple organizations to distribute the face shields. In all, over 5,200 face shields were donated.
Thank you to front-line workers for your relentless and unwavering effort to protect our community and fight this horrible pandemic. Your steadfast courage and commitment to your profession is to be admired, and we commend you!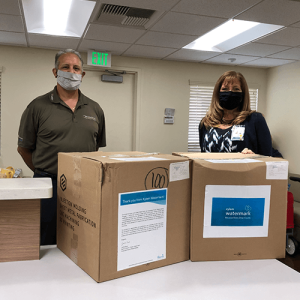 San Antonio Regional Hospital
Upland, CA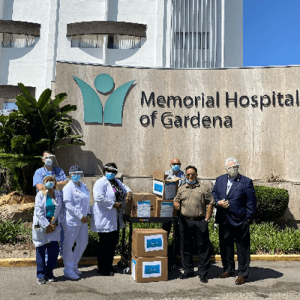 Memorial Hospital of Gardena
Gardena, CA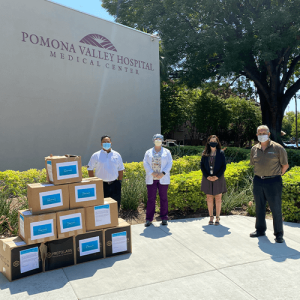 Pomona Valley Hospital Medical Center
Pomona, CA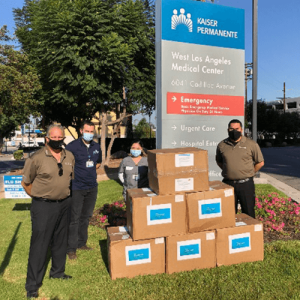 Kaiser Permanente West Los Angeles
Los Angeles, CA

High Desert Regional Health Center
Lancaster, CA

Megan's Wings Program Partner Participation
The mission of Megan's Wings is to improve the care and quality of life for children with cancer by providing financial and emotional support to their family.
Our vision is to create a community where no family faces the financial and emotional burdens of childhood cancer alone.
We carry out our mission by supporting families through our programs:
Patient Aid
Gas Assistance
Monthly Assistance
Adopt a Family
Birthday Club
Mentor Support
Megan's Wings Corporate Partnership
If you own a business or work for a big company that might be interested in partnering with Megan's Wings to help the most vulnerable childhood cancer families thrive, we are looking for you. Due to fundraising event disruptions the last two years, we have shifted away from Event Sponsorships to Program Partnerships so that we can securely fund our programs and keep them running smoothly.
Program partners commit to make a one-time or annual donation to Megan's Wings that directly funds our Financial Aid and Support Service Programs. We want families affected by pediatric cancer to know they can count on the financial and emotional support that Megan's Wings provides, and we can do this better with solid partnerships that are independent of events.
We are looking for businesses willing to make a commitment to Megan's Wings in lieu of attending an event, so our Patient Aid, Monthly Aid, Gas Assistance, Birthday Club, and Mentor Connection Programs can continue providing the critical services families of children with cancer depend on.
Learn more about the Dawson Co. Giveback Program.
Contact us about your charity's upcoming event.